| | | |
| --- | --- | --- |
| Class 2 | Friday, January 20 | |
This class was all about our basic rhythms in 4/4. We played around with quarter notes, half notes, eighth notes, you name it! (Well, we didn't cover every possible rhythm but it was a good start.)
Homework #1: Student Survey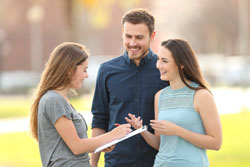 Don't forget that I want you to do a brief survey as homework assignment #1, due date is Tues, Jan 31. If you haven't done anything on this site yet you'll have to make an account first.
Homework #2: Rhythms in 4/4

Also I gave out our first paper worksheet. This one will be due on Fri, Jan 27.
As you get started you might want to review pp. 6-11 in our theory anthology which covers everything you need to know.
Training Sequence Initiated